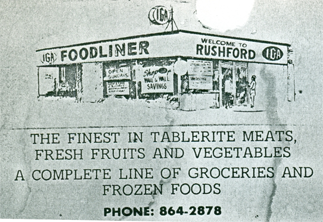 Rush Foods, Inc was started in 1969 by three La Crosse, Wisconsin area businessmen who purchased the IGA store from Norman Berg and named it Rushford IGA.

In 1973, Jim Hoiness was hired as the store manager and after a short time was brought on as a partner.
In 1975, the grocery store in Harmony was purchased and named Harmony IGA. Harmony IGA went through a substantial remodel in the early 1980's to double the size and adding an in-store bakery and deli.
In 1984, Rushford IGA moved to a new modern 12,500 square foot facility built just across the street from the existing location. The former store building was remodeled as commercial rental space and was call the "Mill Street Mall".
The grocery store in Lewiston, MN was added in the mid-80's and sold again in the late 1980's.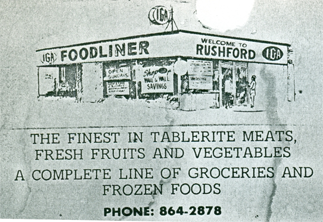 In 1997, Jim's son Brad joined him in business and purchased the business from the other partners. In 1999, the company purchased the grocery store in Preston, MN. In 2004, Rushford Foods was extensively remodeled with expanded departments in dairy, meat and frozen foods. Most of the refrigeration and freezers on the sales floor were upgraded with new equipment to improve energy efficiency.
A devastating flood on August 19th, 2007 left four feet of water in the Rushford Foods building, which led to a massive remodeling effort. Hundreds of volunteers and most of our suppliers assisted with physical or financial assistance to help us get back in business. The teams of Ankeny Builders and Reister Refrigeration were enlisted to handle the professional demolition and remodeling of the facility. In just 74 long hard days, Rushford Foods opened on Halloween Day October 31, 2007. That inspirational day marked the single biggest sales day our company had ever had.
In July of 2009, a complete remodel of the Preston Foods building finished, doubling the size of the Produce department and moving it to the front of the store. Similar to the Rushford remodel, most of the refrigeration and compressor systems were replaced to gain energy savings. A new full service deli department was added to include hot food entres, asian cuisine and Chester's Chicken. The exterior of the building was the final phase of this project which happened in 2010.
In 2010, Harmony Foods become more energy efficient. For example, the new Zero Zone Door Freezers require 41% less energy to operate compared with our old freezer doors and the new store lighting upgrade will result in 30% less energy used.